Product Details
DERMAdoctor Kakadu C 20% Vitamin C Serum with Ferulic Acid & Vitamin E.
Indulge your skin with one of the richest natural Vitamin C sources known on earth.  Wild harvested in the remote Australian Kimberley and NW Territory, Kakadu Plum puts the SUPER in super fruit.  Ounce per ounce, Kakadu plums contain on average 55 times the vitamin C of Florida oranges.*
Vitamin C is a potent antioxidant and helps protect skin from environmental aggressors by fighting free radical damage.
Helps brighten and leave skin feeling more elastic, smoother, softer and firmer.  Also helps improve the appearance of fine lines and wrinkles.
This high potency, lightweight serum provides an anti-aging concentrate of 20% stabilized Vitamin C enriched with Kakadu Plum, Ferulic Acid and Vitamin E.
As seen in Family Circle & Dr. Oz The Good Life.  Cosmopolitan For Latinas Beauty Award Winner.

* A fresh Kakadu Plum contains on average 2500mg/100g WW of Vitamin C vs. a Florida Orange which contains 45mg/100g WW.  Based upon data calculated from Food Chemistry (Nov. 2013) and the US Department of Agriculture (March 2014).  The Kakadu Plum included in the serum has been combined with stabilized Vitamin C from other sources.  Note that the vitamin content of natural foods are estimates and vary depending upon conditions such as soil, temperature, and climate.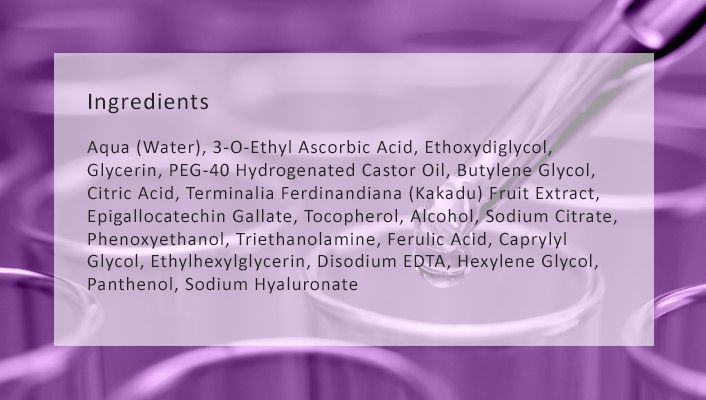 ---
Based on a 4 week sponsored period of use by 32 female volunteers ages 21-65:
93.75% agreed complexion looked brighter
93.75% agreed skin felt softer
96.88% agreed skin felt smoother
90.63% agreed skin felt tighter
84.38% agreed skin felt more elastic
84.38% reported skin felt firmer
84.38% said complexion looked more radiant
81.25% agreed skin felt hydrated
78.13% reported skin tone looked more even
75% agreed skin felt more resilient
75% said complexion had more glow
71.88% agreed skin appeared lifted
68.75% reported skin appeared more youthful
62.50% agreed serum helped improve the appearance of the visible signs of aging
62.50% said they saw a visible improvement in fine lines and wrinkles
59.38% reported visible improvement in under eye circles
56.25% reported seeing a softening of smile lines
53.13% reported seeing a visible improvement in crow's feet
50% reported seeing a visible improvement in vertical lip lines
50% reported seeing a softening of frown lines
5 drops of serum were applied to clean, dry face each morning.
---